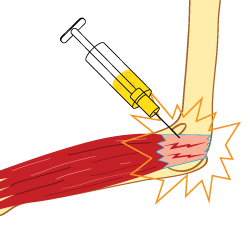 Golfers Elbow
What is Golfers Elbow?
Golfer's Elbow is a repetitive strain injury, injuring the medial epicondyle. Golfer's Elbow can be caused by an acute injury, or an overuse injury. Most often, Golfer's Elbow is the result of an overuse condition where a specific activity done many times causes a chronic irritation to the tendon. Golf is the most common cause of these symptoms, but many other sport and work-related activities can cause the same condition.
Golfers Elbow Treatment
Golfer's Elbow is a problem that usually heals with simple treatment methods, and does not cause any long-term problems. Treatment is rarely surgical, as this condition is well managed with rest and cold therapy.
Lifestyle changes are important if Golfer's Elbow does not heal on its own, or recurs. With athletes, often altering the swing mechanics can resolve the problem. Ensuring that clubs and grip sizes are sized properly will often alleviate the pain.
Anti-inflammatory medications are often used to help control pain and inflammation. The oral forms of these medications are easy to take, and often help control the inflammation as well as manage the pain associated with Golfer's Elbow. Ensuring that anti-inflammatories are only taken when at rest, will ensure that the injury does not get worse throughout the day.
Simple stretches and exercises can be helpful in controlling the symptoms of Golfer's Elbow. These exercises should not cause pain, and if they do the exercises should not be done until the pain dissipates. Stengthening the muscles involved with Golfer's Elbow, is the key to preventing the injury from returning.
Cortisone Injections
Doctors will recommend this treatment method when all other attempts at healing Golfer's Elbow have failed. Cortisone injections WILL help relieve the pain, but that doesn't mean that the injury has healed. While the cortisone is doing it's job the feeling of pain is gone. Most often when the pain returns, it will be more severe than before and this is because the injury and inflammation has progressed further.
When injecting the cortisone into the medial epicondyle, side effects will include a decrease in the immune system's ability to create white blood cells - lessening the ability to fight infection, susceptibility to bruising, osteoporosis, irritation at the injection site, and possible infection at the injection site due to the immune system supression.